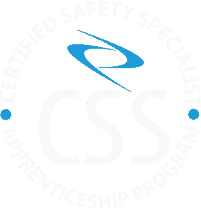 We are proud to announce the Certified Safety Specialist Apprenticeship Program in collaboration with the State of Washington, Department of Labor and Industries and Edmonds College.
The CSS Apprenticeship Program is a first-of-its-kind apprenticeship program that is tailored to the technical field of occupational safety and health.  Our purpose is to provide an alternative option to either traditional education or pure field experience.  This program will instead provide a mix of both classroom training, delivered through online safety courses along with roughly two years of on-the-job training experience with one of our registered training agents.
Whether you are a potential training agent, i.e. employer, or a candidate to become an apprentice, this is a unique and special program.
Our goal is to close the gap between field experience and education, providing safety and health professionals to the safety industry who are both well-rounded and trained for success.